Sarah, we know exactly how you feel!
We get happy too when we see a deck that looks this good after 7 years!
DekTek Tile Vs. Wood
Wood decking was the first and original decking material to come along. We're finding many homeowners are tired of the same old wood look, as well as the extensive maintenance issues that come along with a wood deck: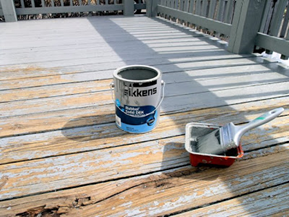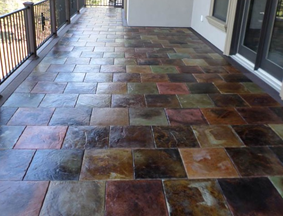 Wood Decks:
- Hours of cleaning, scrubbing, stripping, staining, painting, and sealing every year
- Inevitable that wood decks will rot and fade
- Wood decks can crack, swell, and split
- Can easily be damaged from insect infestation
- Painful and destructive splinters
- Destroys trees, contributing to deforestation
DekTek Tile Vs. Composite
Through the evolution of decking, wood was first on the scene, and then composites and PVC came along. Composite decking improved the quality and endurance, while lowering the maintenance required. The same dull wood look, however, never changed. While composite decking was an improvement over wood, they still have issues of their own: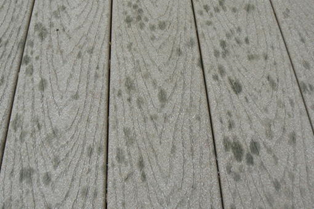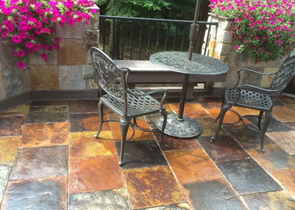 Composite Decks:
- Fading
- Mold & algae build up
- Scratch easily & are very difficult to repair
- Are manufactured using up to 95% plastic (which is derived from harsh un-ecofriendly fossil fuel & crude oil)
- Shrinks and expands with temperature fluctuations
-Warps & sags in hot climates
- Are subject to discoloration and staining over time
- Some Maintenance: cleaning with deck wash
-Contributes to deforestation
PVC decks:
- Shrink and expand with temperature fluctuations
- Are susceptible to chalking
- Damaged by insect repellents, rubber mats, and sunscreen (leaving stains & fading)
DekTek Tile
The New Generation of Decking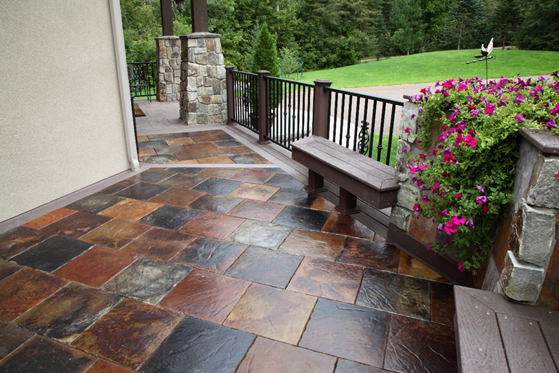 After years and years of the same drab looking decks, homeowners are more than ready for change. Thank goodness decks have now evolved into a luxurious outdoor experience with DekTek Tile! We can say with enthusiasm, homeowners can FINALLY have a stunning, jaw-dropping deck to fully enjoy life with family & friends, WITHOUT all of the issues wood and composites have! The evolution is now complete!
DekTek Tile is changing the way outdoor living is done. The beauty & elegance of DekTek's luxury tile decks are blowing the socks off of boring wood and composite decks. Yeah that's right! Take a peek for yourself. There is no denying DekTek tile decks give your deck that WOW-FACTOR! Plus, the beautiful handcrafted precast tiles are not only designed for elevated decks and roof decks, but they also add class and elegance to all of your other outdoor areas as well: concrete slabs, fire pits, outdoor kitchens, porches, patios, balconies, three-season porches, concrete steps, and ground pavers.
Check out the benefits of DekTek Tile below!
DekTek Tile is creating the ultimate outdoor experience, completely transforming outdoor living spaces, leaving customers wildly happy!
THE "WOW-FACTOR"
DekTek Tile's appearance blows traditional decking materials out of the water! DekTek Tile is a vibrant upscale alternative to standard decking materials. With its striking appearance & unique innovative design, there is no other decking material on the market that looks as stunning as a DekTek Tile deck. The elegance of the concrete tile creates a luxurious ambiance that transforms your outdoor living space. All of our customers agree that a DekTek Tile deck really gives your deck that "Wow Factor"! DekTek Tile is excited to change the game and leave customers with outdoor living areas that have never looked so good!
NO MOLD OR ALGAE
With a DekTek Tile deck you will never have to worry about mold or algae growth developing on your deck! This not only saves you the headache and hassle of trying to battle the slippery algae growth and continually have to clean and scrub it off, but again it makes DekTek Tile the much safer decking option as algae buildup can be very slippery.
ULTRA-LOW MAINTENANCE
DekTek Tiles are ultra-low maintenance. Instead of spending all of your precious time and energy trying to maintain your deck and keep up with the constant hassles of mold, rotting wood, algae, chipping & peeling, and the constant upkeep of cleaning, scrubbing, and staining your deck every year...here at DekTek Tile we want you to sit back and relax. Spend your time enjoying the beautiful outdoors with your family and friends, and focus on the things that are most important to you in life! With a DekTek Tile deck it allows you to do just that. We recommend your deck get sealed only once every three years. This protects it from freeze/thaw and the other elements. And the really cool thing about sealing your deck is that it makes it look brand new again!
MUCH SAFER THAN TRADITIONAL DECKING
DekTek Tile gives you peace of mind! With a DekTek Tile deck you don't have to worry when you and your family are out grilling on the deck, or want to enjoy an evening outdoors around the fire pit roasting s'mores. Our concrete tiles are 100% non-combustible, leaving you worry-free, and allowing you to fully utilize your outdoor decking area and know that you and your family are safe. In some states, DekTek Tile may even lower your cost of insurance!
Another important feature that sets DekTek Tile apart from the rest is that our tile decks have a non-skid surface. Wood and composite decking can be dangerously slippery when they are wet. DekTek Tile is a safer option for you and your family when you choose the non-skid surface option. (Refer to the Sealer page). A fine sand grit needs to be mixed into the sealer when the tiles are being sealed. This is highly recommended for all decking areas, especially those that receive snow, or other decking areas that see a fair amount of water, as well as around pool decks.
NO FADING
Unlike wood & composite decks that fade substantially over time, DekTek Tile will keep their beautiful look and not lose its vibrant colors due to fading. (See DekTek Tile's Fade Warranty).
SAVES YOU MONEY OVER TIME
Sure, it's true that we don't give our tiles away, although we'd like to...so we could share this experience with everyone! But the truth of the matter is, that's not possible and our tiles are a little investment upfront. But I can tell you this! You get what you pay for! When you purchase a DekTek Tile deck you are investing in luxury. In a lifestyle. Our elegant tiles create the perfect outdoor experience for you and your family & friends; to enjoy your free time outside, enticing you to live a healthier, more enjoyable, happier lifestyle. We want you to take as much time as you possibly can to smell the roses, and feel the nice breeze on your skin. Entertain with all your favorites around you! Why? Because you deserve it! Like we always say, life's too short. Live your life and love it!
Choose the DekTek Tile way.
Oh and did we mention, DekTek Tiles are extremely durable and long lasting. So the multiple times you would have had to replace wood decks or composite decks, your DekTek Tiles will be going strong and looking gorgeous, saving you lots of money in the long run! Just a little icing on the cake!
NO SUBSTRATES OR HEAVY DUTY FRAMING
If you're comparing our concrete tiles to others in the industry, one of the biggest features that sets us apart is that our tile decks do not need expensive substrates or heavy duty framing. DekTek Tile's concrete deck pavers are structurally engineered to hold over 1,000 pounds per tile. Standard framing is usually sufficient, with only minor modifications. DekTek Tile is also easy to install when building or remodeling your beautiful outdoor space. The concrete deck tiles are engineered to span 16" o.c. wood joists so that plywood or other substrates are not needed.  This makes DekTek Tile a much more cost effective decking option over other tile decks and alternative decking materials that need expensive substrates or heavy duty framing.
MORE DURABLE & WEATHER RESISTANT
DekTek Tile is designed to be more durable & weather resistant than standard decking materials. The high-strength deck tiles are Minnesota tested and approved, with temperatures well below zero to over 100 degrees, holding up absolutely beautifully in the drastic temperature ranges. DekTek Tile's custom poured concrete decking material is highly reinforced (Building Code Approved), and engineered to support more than 1000 lbs. per tile.  
DekTek Tile also holds up better in harsh weather due to the weight and strength of the tile. In states where extreme weather conditions arise, we are a better option because the weight of the tiles are more heavy duty than those of standard decking materials, making it more difficult to separate from the joists.
EASY TO REPAIR
On all of DekTek Tile's standard colors the coloring is throughout the entire tile. This makes for an easy solution when any minor scrapes or scratches occur. By retouching the sealer on the scuffed up tile you can easily repair the scratches, unlike the pain and hassle you have to go through when trying to repair traditional decking products. When trying to remove the full deck boards from wood and composite decking, it is extremely difficult, making it almost impossible to fix. If there happens to be one of DekTek's concrete tiles that needs to be removed (which is very rare), it is easy to remedy. Simply remove the existing tile and replace with the new one.
ECO-FRIENDLY AND TOXIN-FREE
DekTek Tile decks are precast with a concrete mix from one of Nature's most plentiful resources on earth, limestone. The tiles are designed using a groundbreaking proprietary blend of completely eco-friendly materials.
DekTek's concrete tiles do not contain the toxic chemicals frequently found in pressure-treated lumber. Also, there are no trees felled, unlike wood decks and some composite decking. In fact, DekTek Tiles are handcrafted using absolutely NO wood products!
We are passionate about doing our part to prevent further deforestation and to promote a healthy environment for us all to live!
MADE IN THE U.S.A.
DekTek Tiles are MADE IN AMERICA! Each DekTek Tile is handcrafted with care in Sturgeon Lake, Minnesota.