NON-COMBUSTIBLE CONCRETE DECK TILES
Creating a safe space for you and your family and friends to enjoy time outdoors. DekTek Tile's non-combustible concrete decking is the perfect solution for fire-pits, outdoor kitchens, pizza ovens, and grilling right from the comfort of your deck. We are all about enjoying time on your deck with your loved ones, WORRY FREE that you're not going to melt the plastic (PVC or composite decking) or burn down your wood deck. 

With DekTek Tile's concrete deck tiles, you can maximize your time outdoors hassle and worry free so you can focus on the things that really matter in your life… family, friends, as well as create a beautiful tranquil space so you can soak in the nature and peaceful ambiance around you, disconnect from the hustle and bustle of everyday life, and just RELAX AND ENJOY!!!

We all have so much going on in our lives, who wants to have to stress and worry about damaging your deck all because you want to cozy up around the fire or grill out with family & friends, or even worse… who wants to burn down their deck, or in extreme cases burn down your house!!! Not us! With DekTek Tile's non-combustible deck tiles not only do you get to enjoy the peace of mind, you also get to enjoy an absolutely gorgeous decking product with amazing benefits! Plus in some states, our concrete decking actually lowers your homeowners insurance! And, with DekTek Tile concrete deck tiles being the same 1" thickness as standard wood/composite decking materials, the installation is DIY friendly and a basic install for new construction decks or deck remodels and renovations!
Choose the best and safest option for you and your family! Choose DekTek Tile!
Photo taken after the homeowner enjoyed a fun evening around the fire on her new industry leading PVC composite decking.
The customer even had a fire-proof matt under the fire pit!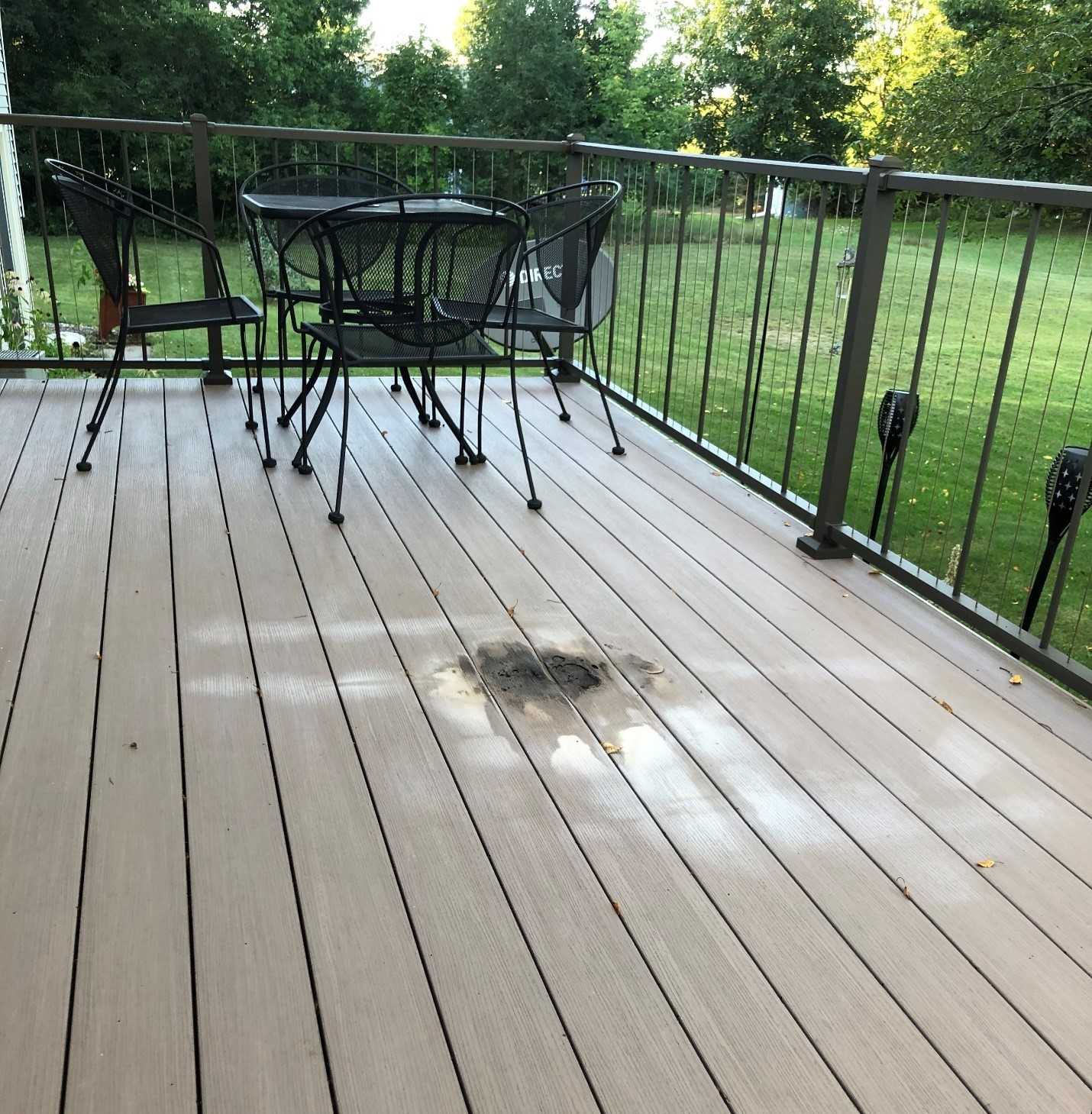 Now the homeowner can enjoy evenings cozying up to her firepit, without worry of melting or burning down her deck or home because she's got DekTek Tile's non-combustible and much safer decking option!