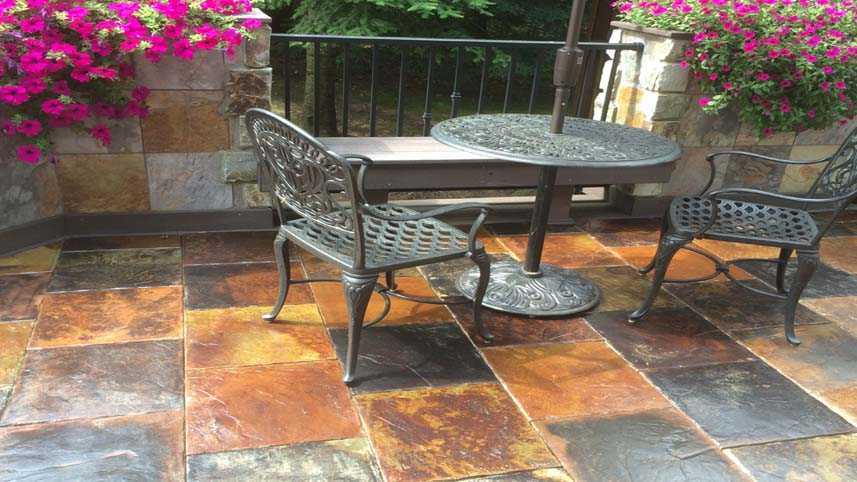 THE NEW GENERATION OF DECKING
Enjoy the Outdoors Surrounded in Luxury
CHANGING THE GAME
DekTek Tile is changing the way outdoor living is done, bringing a warm indoor elegance to your outdoor living spaces. The beautiful hand-crafted precast concrete deck tiles are designed for elevated decks and roof decks, but adds a taste of class and elegance to all your outdoor living applications. DekTek's tile decks are transforming the outdoor living industry, leaving customers with gorgeous tile decks to prove it!
THE "WOW-FACTOR"
DekTek Tile is a vibrant upscale alternative to standard decking materials. With its striking appearance & unique innovative design, there is no other decking material on the market that looks as stunning as a DekTek Tile deck. The elegance of the concrete tile creates a luxurious ambiance that transforms your outdoor living space. All of our customers agree that a DekTek Tile deck really gives your deck that "Wow Factor"! DekTek Tile is excited to change the game and leave customers with outdoor living areas that have never looked so good!
ULTRA-LOW MAINTENANCE
DekTek Tiles are ultra-low maintenance. Instead of spending all of your precious time and energy trying to maintain your deck and keep up with the constant hassles of mold, rotting wood, algae, chipping & peeling and the constant upkeep of cleaning, scrubbing, and staining your deck every year, here at DekTek Tile we want you to sit back and relax. Spend your time enjoying the beautiful outdoors with your family and friends, and focus on the things that are most important to you in life!
NON-COMBUSTIBLE
DekTek Tile gives you peace of mind! With a DekTek Tile deck you don't have to worry when you and your family are out grilling on the deck, or want to enjoy an evening outdoors around the fire-pit roasting s'mores. Our concrete tiles are 100% non-combustible which gives you that peace of mind, allowing you to fully utilize your outdoor decking area, and know that you and your family are safe. In some states, DekTek Tile may even lower your insurance costs!
NO SUBSTRATES OR HEAVY DUTY FRAMING
One of the most important features that sets DekTek Tile apart from others in the tile decking industry, is that our tile decks do not need expensive substrates or heavy duty framing. DekTek Tile's concrete deck pavers are structurally engineered to hold over 1,000 pounds per tile. Standard framing is usually sufficient, with only minor modifications. DekTek Tile is also easy to install when building or remodeling your beautiful outdoor living spaces. The concrete deck tiles are engineered to span 16" o.c. wood joists so that plywood or other substrates are not needed.  This makes DekTek Tile a much more cost effective decking option over other decking materials that need expensive substrates or heavy duty framing.
NO FADING
Unlike traditional decking products (wood & composite decks) that fade substantially over time, DekTek Tile will keep its beautiful look and not lose its rich colors due to fading. Please note DekTek's green colored tiles in the Tuscan Medley color selection do have a changing patina that will cause them to slowly change color over time. View DekTek Tile's Fade Warranty.
MORE DURABLE & WEATHER RESISTANT
DekTek Tile is designed to be more durable & weather resistant than standard decking materials. Our custom poured concrete decking material is highly reinforced and engineered to support more than 1000 lbs per tile.  
DekTek Tile's high-strength deck tiles are Minnesota tested and approved with temperatures well below zero to over 100 degrees, holding up absolutely beautifully in the drastic temperature range. DekTek Tile also holds up better in harsh weather due to the weight and strength of the tile. In states where extreme weather conditions arise, DekTek Tile is a better option as the weight of the tiles are more heavy duty than those of standard decking materials, making it more difficult to separate from the joists.
On all of DekTek Tile's standard colors, the coloring is throughout the entire tile.  This makes for an easy solution when any minor scrapes or scratches occur. By retouching the sealer on the scuffed up tile you can easily repair the scratches. This is a simple task unlike traditional decking products where it's extremely difficult to try and remove the full deck board, making it almost impossible to fix.
Another important feature that sets DekTek Tile apart from the rest is that our tile decks have a non-skid surface. Wood and composite decking can be dangerously slippery when wet, which makes DekTek Tile a safer option for you and your family. To get the non-skid surface, a fine sand grit needs to be mixed into the sealer when the tiles are being sealed. This is highly recommended around pool decks or other decking areas that see a fair amount of water.
With a DekTek Tile deck you will never have to worry about mold or algae growth developing on your deck. This in turn makes your DekTek Tile deck much safer as you won't have to battle the slippery algae growth.
ADDS A TASTE OF LUXURY
Whether you are looking to transform your entire outdoor living space or just add a touch of elegance, DekTek Tiles do a stunning job of dressing up and adding class to all your outdoor living areas: elevated decks, roof decks, porches, patios, balconies, outdoor kitchens, concrete slabs, three-season porches, fire pits, concrete steps, and ground pavers.
DekTek Tile's alternative decking material is also designed to be the same 1" thickness as traditional wood and composite decking to make beautiful accent decks, edge trims, borders, or for mixing and matching. This is the perfect solution when adding on your new addition, or for those who want a taste of luxury without the expense. If the cost of installing DekTek Tiles over your entire deck or outdoor living area is a concern, we recommend you consider a beautiful DekTek Tile accent deck to give your outdoor space a touch of elegance, still allowing you to create the beautiful outdoor haven you've always wanted!
MADE IN THE U.S.A.
DekTek Tiles are manufactured in Sturgeon Lake, Minnesota.