DekTek Tile's New Walk-Out Patio Application—Built By New Jersey Contractor & DekTek PRO Installer T-3 Construction LLC
The first time T-3 Construction LLC used DekTek Tile for a project, it turned out to be a perfect fit to solve a homeowner's dilemma. The homeowner wanted a patio behind their home, but ground-laid pavers weren't an option because of the home's location in a flood zone. Jake Taylor, owner of T-3 Construction LLC in New Jersey, remembers the dilemma: "If the customer installed a regular patio, he would need to have a step down from his sliding doors, but he wanted to go right out with no step. This is how we got to use DekTek Tile—it was the perfect fit for the customer. We installed standard foundation posts and built the framing right on ground level, with all the proper drainage so the water clears out and doesn't flood."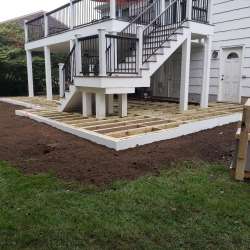 "The concrete deck tiles worked perfect for this application." Jake said. "My customer wanted the walk-out patio, but the township wouldn't let him use pavers flush with the door. DekTek Tile is what we came up with." It ended up being the best of both worlds.

Jake and his brother, Tim Taylor, are partners. When the brothers discovered DekTek Tile on Instagram, they kept their eyes open for the right project to try out the tiles on a T-3 Construction LLC project. When the New Jersey homeowner told T-3 about his flood zone dilemma—how he wanted a walk-out patio but needed something raised that drains water to prevent flooding—they told the homeowner about DekTek Tile, and he was excited to use the product. "He loved the fact that he was going to be the first DekTek Tile project in the state of New Jersey," Jake said.
"When the DekTek tiles were delivered, people saw the delivery pallets," Jake said. "Neighbors were driving by asking if we install pavers and if they can get a quote. I explained that they're not pavers—it's a decking product. They're actually a concrete tile that goes right on a typical deck frame. 'Before you write off this concept,' I told them, 'come by when it's all done.'"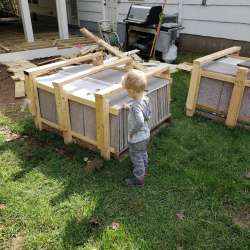 With all the interest in the new product, the homeowner was excited to get things rolling. T-3 Construction LLC got to work and used a slightly modified version of DekTek Tile's sister joist method. Instead of using one large joist and one small sister joist (2x4 sister), as it's normally installed on elevated decks, they sistered together two 2x6's to keep it closer to the ground for the homeowner's basement walkout patio.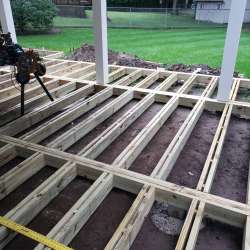 "We put two boards (2x6) together with a ¾-inch spacer in between," Jake said, "and you just have to lay them out 16"o.c., so that each side of the DekTek tile sits on one of the sister joists. With the spacer in the middle, it lets the water drain through."
"You've got the outside trim board that needs to be installed first. We used composite," Jake said. "When you build your DekTek Tile deck, you need to carefully do your math and plan it out so the 16"o.c. joists and tile will match up with composite trim and fit properly. Once you've got the first couple of tiles done, it really flows."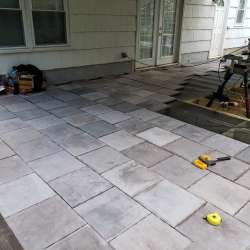 "The way we did it, we framed up most of the deck except the very last end part, and then we started setting tile," Jake said. "We set the tile all the way across to the unfinished end. This way we were able to see exactly where to put the last sister joist in, so that way we didn't have to cut any tile and could use a full piece at the end."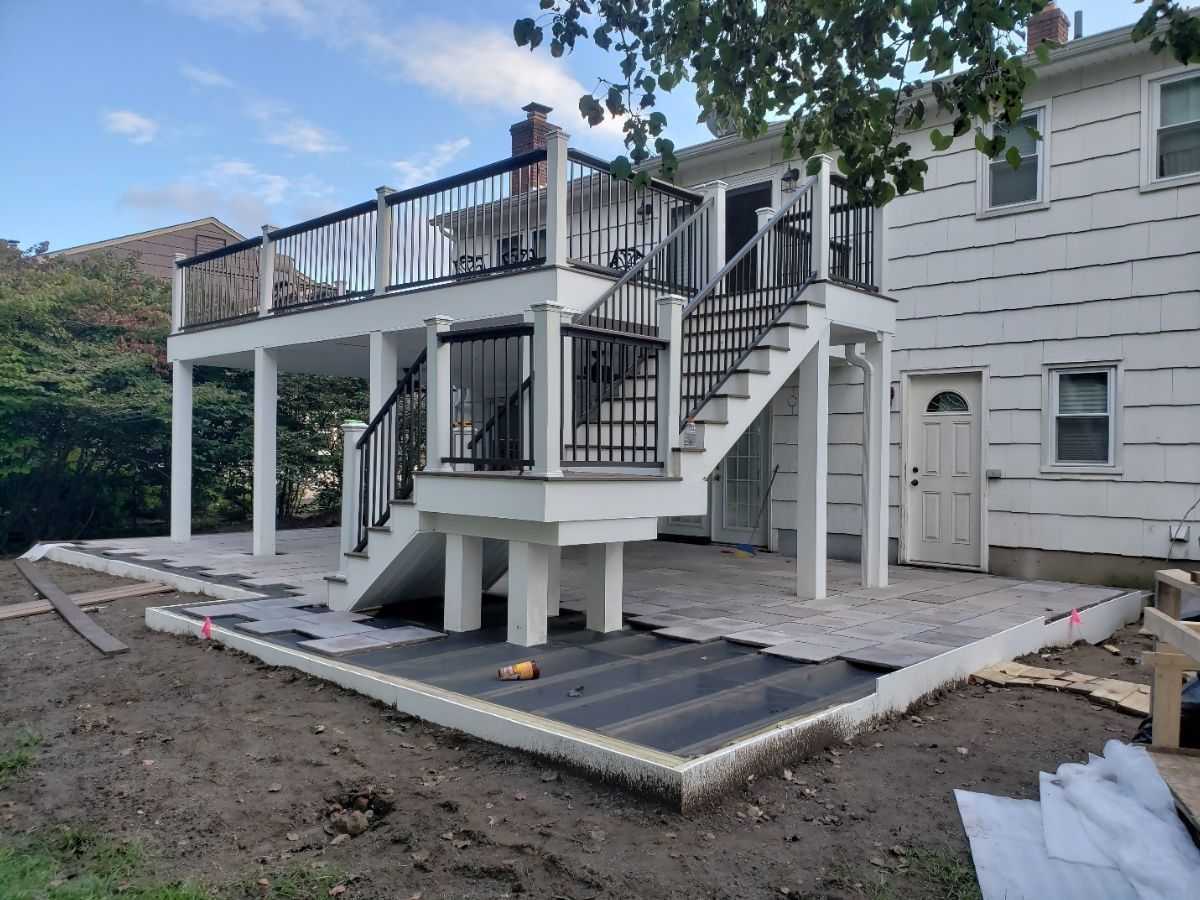 DekTek Tiles come unsealed. For sealing/finishing, T-3 Construction LLC used a solvent-based concrete sealer made by Alliance called Gator Seal. Sealer is a must for DekTek tiles because it protects the tiles year-round and also brings out their colors. When Jake and Tim first saw the tiles, they thought they looked a little dirty and dusty; but when they rolled on the sealer to the edges and top of the tiles, the colors really popped! "We also added a little sand grit to the sealer," Jake said, "so that it made the tile non-skid. Down the road, approximately 3 years, you will apply another coat of sealer that'll go on fast and easy. It just rolls on."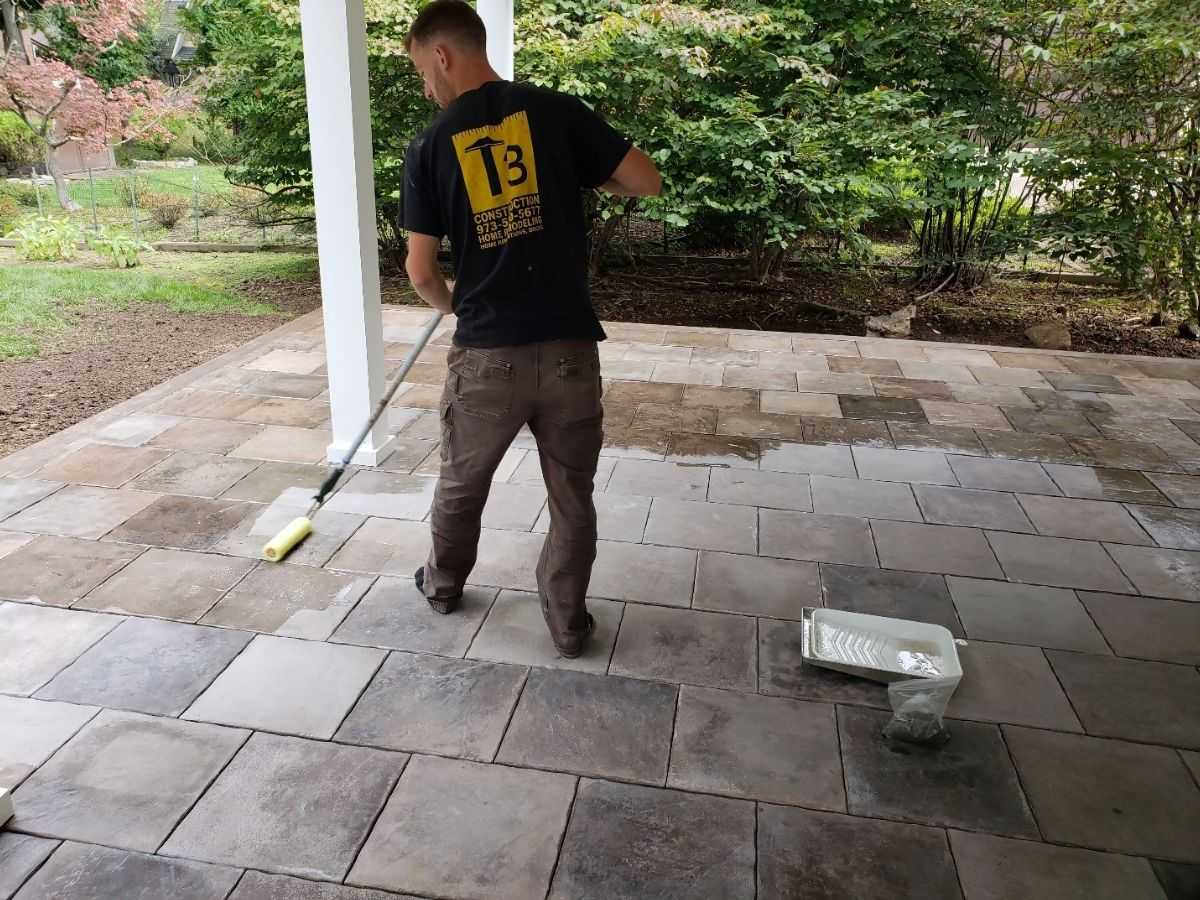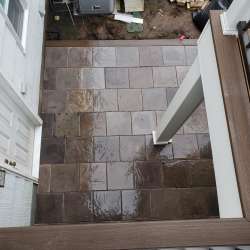 With the sealed tiles applied on the sister joists, T-3 Construction LLC was ready to showcase the finished product. The homeowner loved it so much that he now allows those who are considering the product to come by and see the results for themselves. "He absolutely loves it," Jake said, "and everybody that comes by thinks it's a paver patio, until he explains the whole process and everything behind it. The homeowner is the easiest guy to work with."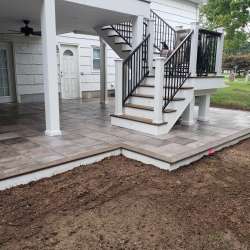 T-3 Construction LLC has three more DekTek Tile projects lined up for this year, and Jake is looking forward to the simplicity of the installation process. "Once you've installed DekTek Tile for the first time, the installation part goes way faster than installing regular deck boards, composite boards, or wood decking. And the fact that the tiles are the exact 1" thickness as most composite board means you can use the tile as an accent; the fact that it can work with so many different products, has an awesome look, and just the ease of installation makes it a great product."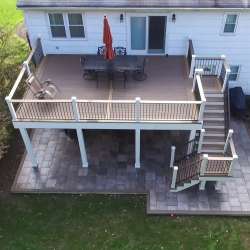 Congratulations T-3 Construction LLC on a successful project and a thrilled homeowner!
T-3 Construction LLC, a DekTek PRO installer, works on a variety of projects, but specializes in decks and other exterior features. Have questions for T-3 Construction LLC about this project or others like it? Reach out to Jake and Tim at t3contructionllc@yahoo.com or follow T-3 Construction LLC on Instagram.
 
Have questions about DekTek tiles, or need a quote? We'd love to talk with you!